Online Sic Bo (also known as Tai Sai or Dai Siu) is a fast-paced Chinese dice game, which is largely considered to be one of the most popular dice-based gambling games ever created (alongside craps.) Over the last few decades, the game has grown to become a staple table game offering in many land-based casinos around the world.
With the game's ever-increasing popularity in the land-casino space, it should be unsurprising that the game is also a popular choice for players who frequent online casinos.
However, despite the game's renown, there are still many Australians who may be somewhat puzzled by it. It is for this reason that we at Casino-Aus have decided to help provide players who may be interested in playing Sic Bo with the all the information a new player needs to know about playing Sic Bo online. This includes a how-to-play guide, the game's history, the variations available as well as the best online casinos in Australia to play the game for real money.
Best Online Sic Bo Casinos for Australians
How to Play Sic Bo Online
It is very easy to learn how to play Sic Bo. All a player needs to do is place a bet on a possible dice variation and wait for the dice to be rolled. The layout of a Sic Bo table allows players to place their bets on the area that corresponds with the bet made. Playing the game online, allows these actions to be done through a series of simple clicks.
When making use of Sic Bo online casino, it is always important to make sure that it is indeed trustworthy. This means ensuring that it is licensed and regulated by authorised online gambling governing bodies.
Sic Bo Variations
Since Sic Bo's creation, the game has developed a few popular variations, some of which are associated with the region. Some popular variations include:
Grand Hazard – a British dice game derived from Sic Bo. The biggest difference between Grand Hazard and Sic Bo is the game's table layout and betting scheme which appear to provide the player better odds than that of the original sic bo layout.
Birdcage – in this version of the game, the dealer spins the three dice in a cage shaped like an hourglass. Birdcage is known to provide players with sic bo odds significantly worse than the base version of the game.
Yee Hah Hi – a version of the game developed in Macau. In Yee Hah Hi, dice make use of images rather than numbers or dots. The use of images allows for even more betting options as players are able to bet on the colour of images.
Best Online Sic Bo Strategy for Australians
As Sic Bo is strictly a game based on luck, there is no how to win tai sai strategy available to players that is guaranteed to result in a victory if followed. There are, however, a few tips and tricks that are sure to result in improved online gameplay if used.
As sic bo is a game purely based on luck, it is recommended that players avoid making bets with high odds. While these bets may offer great payouts, it is very unlikely that any such bets will actually pan out.
With the previous point in mind, it is recommended that players stick to making small and big bets (see glossary for a description) as these bets provide players with higher odds and thus a higher chance of winning a payout.
Always pay close attention to your bankroll. You should always be aware of how much you wager in each game as this will help you adjust your betting strategy while playing. Doing this may help you extend your play session.
Always remember to gamble responsibly. This means that if you lose all your budgeted money during a session, do not try to win it back by spending more money.
Can I Play Sic Bo Online for Free?
Many prospective players will be happy to know that it is possible to play sic bo online for fun without spending any real money. As a large number of players may be rather unfamiliar with how the game is played, it seems imperative that popular online casinos offer players the opportunity to play the electronic versions of the game for free.
Even if you are a seasoned land-based casino veteran, we at Casino-Aus recommend that you try playing online sic bo games for free first as the online environment sometimes differs from the live-action environment.
Can I Play Sic Bo with a Live Dealer?
For some Australians, the most thrilling part of playing table games in a land-based casino is the interaction involved in gameplay. Many online casinos understand this desire, and it is for this reason they offer players the chance to play a range of table games, such as blackjack, baccarat and roulette, with a live dealer.
While some online casinos do offer Australians the chance to play live Sic Bo online, it is important to note that it isn't yet a game available at all such casinos. Thus, players need to make sure that they research the sic bo online casino they would like to play at to ensure that it is indeed an available option.
History of Sic Bo
Although it is known that the game of Sic Bo originated in China, the exact period the first Sic Bo game was played remains contested. Popular theories suggest that the game originated in Ancient China over 1900 years ago, and despite this estimate possibly being inaccurate, Sic Bo is still considered to be one of the oldest gambling games played today.
The game is said to have gone few changes since its inception. Many believe that the game may have originally been played with two dice (instead of three), with a direct translation for the term "Sic Bo" being "dice pair" but this, again, is unconfirmed. The die used by early players of the game also differed slightly to those used today, with players using numbered bricks instead of dice.
Although the game had been exceedingly popular in Asia for centuries, the game's migration to the rest of the world is a relatively recent affair, with the game first gaining popularity in some non-Asian states in the 1940s. This involved countries and areas such as the United States and the United Kingdom creating their own variations of the game.
Despite the game's adoption by players outside of Asia, Sic Bo was not played in land-based casinos in foreign nations (including the United States and the United Kingdom) until largely after the 1990s. Since then, it has grown to become one of the most popular casino dice games around the world.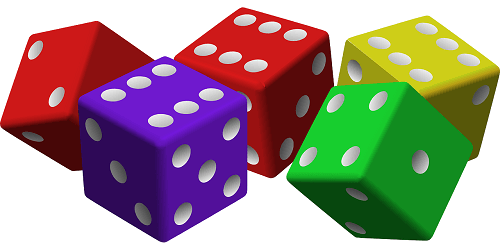 Sic Bo Glossary
Before you dive into your first online Sic Bo game, it is important for you to be clued up on all of the casino title's in-game terminology. The following are some of the most frequently used online sic bo terms:
Big Bet – a bet in which the player wagers on the sum of the three dice being between the numbers of 11 and 17.
Dai Siu – another name for Sic Bo.
Small Bet –a bet in which the player wagers on the sum of the three dice less than a value of 11.
Cage – a term used to refer to the case players use to shake the three dice before rolling. As players are unable to make use of a cage while playing the online casino version of the game, the electronic game's programming makes use of a random number generator to determine dice values.
Duo Bet –a bet in which the player wagers on the same value appearing on at least two of the three playing dice.
Weak Bet – a term used to refer to the simplest bet that can be made in Sic Bo; one which suggests that a particular number will appear on a single dice.
Tai Sai – another name for Sic Bo.
Re-bet –a bet which has been made in two consecutive games.
Triple Bet –a bet in which the player wagers on the same value appearing on all three dice.
Learn More About Casino Games