Online craps is a highly played game in the online casino gaming space. With dice being all that is required to play a game, it is known to many as one of the most accessible gambling games in the world. Thus, it is no wonder that the game has remained a popular favourite for so long.
Since the game's debut in the land-based casino circuit, it has grown to become a favourite of many avid casino table game players. Thus, it is no surprise that many Australians also seek to play the game online. To make the task of finding the best craps online casino somewhat easier for our players, we at Casino-Aus have decided to not only list some of the top-ranked online casinos in Australia that offer the game but also provide some essential knowledge about the game.
Best Online Craps Casinos
How To Play Craps Online
To those who have never played craps, the game may seem somewhat intimidating, but it is actually a very easy game to play. As the game has one of the lowest house edges for a casino game, many Australians seek to learn how to play it.
Simply explained, craps is a game which is played by throwing a pair of dice. In a land-based casino, each player playing at a particular table is given a chance to roll the dice. The score of the player's throw determines the outcome of the game.
A player's first roll of the device is known as a come-out roll. If during a come-out roll, the player rolls a:
7 or 11, those who placed "pass bets" win (i.e. those who bet on the shooter to throw a winning score) and the game ends immediately. It is also important to note that those who placed "don't pass" bets lose (it being the exact opposite of a pass bet.)
2 or 3, those who placed don't pass bets win and the game ends immediately.
12, the game is considered a tie and ends immediately.
A number between four and 10, the game continues, but the number rolled has been established as the point number. The shooter must then continue rolling until they reach the point number again or a seven. If the point number is rolled, those who placed pass bets win; however, if a seven is rolled, those who placed don't pass bets win. The game ends when either the point number or a seven is rolled.
With the basics of craps now explained, you are ready to jump into an online craps games as soon as possible.
Other Popular Craps Betting Strategies Explained
Avid Australian casino game players are always looking to improve their craps strategy. As with most casino games, this involves making use of some popular betting strategies. Here are some of the most popular betting strategies available when playing craps games online:
Side Bets – a term used to refer to bet made in addition to the main bet. For example, a player may place a bet on the outcome of a particular game and an additional bet on the outcome of the following game. There are many different types of side bets available on offer at online casinos. It is important to note that some side bets offer impossible odds, which are very unlikely to occur and thus are not worth wagering on.
Come and Don't Come Bets – these bets are very similar to the Pass and Don't Pass bets. However, they can only be placed after a point number has been rolled. These bets are rather complicated, so it is important to make sure you truly understand the concept before placing them.
Odds Bets – this bet can only be placed after the shooter has established a point. Players bet on the shooter rolling a specific number in the next round. The odds on each number are as follows:

2-1 if the player bets on the shooter rolling a number between four and 10.
3-2 if the player bets on the shooter rolling a number between five and nine.
6-5 if the player bets on the shooter rolling a number between six and eight.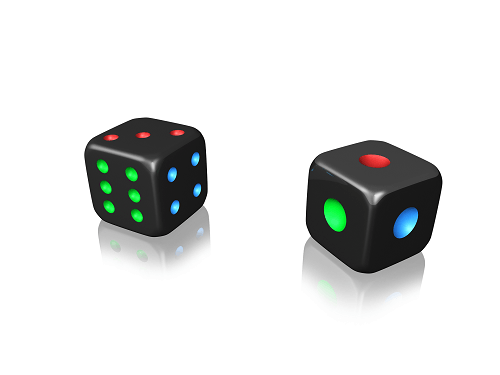 Best Online Craps Techniques for Australian Players
There are a few other general techniques (aside from selecting a craps betting strategy) that many players may find helpful when playing casino dice games online. To get the best Australian online craps experience, always keep the following tips in mind:
Play free craps online before playing for real money. New online players are often unfamiliar with the casino gaming software, and this could lead to unnecessary losses if playing for real money.
Don't place large bets on ridiculous odds. Remember the further a player goes down an online craps payout chart, the less likely the player is to see a return on that bet.
Before jumping into a craps game online at just any online casino, research the potential options available to you. Some casinos have better bonus schemes on offer, which could ultimately help players extend their session playtime.
Before starting any gaming session, determine the amount of money you are willing to spend during the session. This will help prevent you from overspending.
A Brief History of Craps
It has been commonly suggested that craps is a game developed from a 12th-century Western European dice game called "Hazard". The exact origins of Hazard itself is currently unknown, with a number of historians suggesting different possible time periods in which the earliest version of the game may have been played. With dates ranging from the early period of the Roman Empire to as late as the 18th century, it is very difficult to estimate a broad time range.
While the exact origins of Hazard is unknown, it is known that the modern game of craps was developed in the United States during the 18th century. Although the game initially proved to be unpopular with American wealthy social classes of the time, it did become exceedingly popular with members of the underclass due to it being an easily accessible gambling game (dice being all that is required.)
With the game's growing popularity amongst the general public, it was soon introduced as a possible game option in many American casinos. Up until the early 20th century, many casinos rigged the game by using unfair dice until an amendment adding Pass and Don't Pass bets to the game were introduced in 1907.
Since this time, Craps has grown to be a gambling game offered in many land-based casinos around the world. With the rise of online casino gaming, it is only natural that the game has become a popular favourite within the online space as well.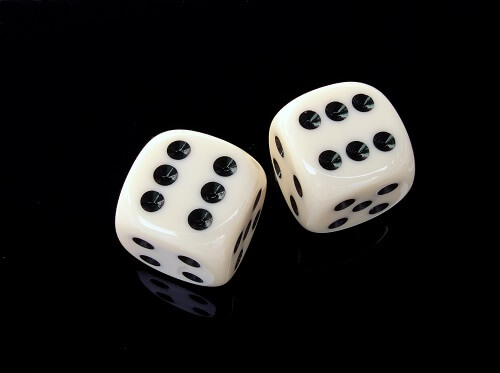 Online Craps FAQ
Why should I play craps online?
There are a few general benefits to making use of an online casino. Firstly, online casinos allow players to play casino games anywhere they like as long as they have a stable internet connection.
Secondly, most online casinos offer players bonuses which have the potential to extend play sessions. Such bonuses are often not available in many land-based casinos.
Can I play craps online for fun?
It is possible for Australians to play free online dice games, including casino favourite, craps. We at Casino-Aus actually recommend that those new to the online casino experience play a free online craps game before playing any real money games as this will allow for time in which to learn how the game works in an online setting.
How can I make sure that an online craps game is not rigged?
There is no way to tell that a specific game of craps is rigged until you start playing it. There are, however, a few preventative measures you can take to maximise your chances of playing legitimate real money craps online games. This largely includes ensuring that the online casino you are playing at is indeed trusted.
We recommend that Australians only play at our affiliates, which are all guaranteed to provide players with fun, safe and fair online gambling experiences.
How does online craps differ from playing craps in a land-based casino?
While playing casino craps online provides a very similar experience to that played in a brick-and-mortar casino, there are a few differences that are worth noting, such as:
Online games are played faster than those played in a land-based casino. As a lot of the physical and mental actions that are required from both the player and the dealer when playing the game in a land-based casino are absent from the online version of the game.
Playing craps online allows for greater betting options as there is no need to make odds that are easy for the dealer to calculate as the dealer is essentially the computer.
As the gambling environment is entirely within the online space, there is no need to worry about the problems often introduced by interacting with other players. For example, players may feel pressured by those surrounding them into making terrible bets.
How can I make sure I win an online craps game?
If a foolproof method for ensuring victory while playing any gambling game existed, most casinos would be out of business. However, while there aren't any ways to ensure that you win an online craps game, there are general gambling tips and tricks you can use which will help improve your gambling experience.
What is the house edge in a game of craps?
Craps is known to be a casino game that offers players some of the best odds of winning. While calculating the house edge for a specific game is dependent on the bet being made, odds for the average game usually sits around 1.4%.
While making big bets may seem somewhat alluring (as the gains are usually high), it is important for players to avoid making such wagers as they usually just result in a player losing a large amount of money in a short period.
Craps Glossary
If you wish to play casino craps online, there are a few terms you may need to become familiar with. To help you with this task, here are a few commonly used terms in the game of craps:
Cold Dice – a term used to refer to a situation during a game of craps in a land-based casino where no player at the table is winning.
Buy Bet – refers to a multi-roll bet placed on any number between four and 10. It is important to note that this bet can only be placed at 5% commission of your winnings.
Shooter – refers to the player throwing the dice.
Multi-Roll Bet –  occurs when a player places bets on multiple rolls before the game ends.
House Edge – a term used to refer to the advantage a casino has over its players. This is not an unfair advantage, but rather what allows casinos to stay in business.
Single-Roll Bet – refers to a bet made on a single roll of the dice.
Other Popular Casino Games in Australia